Concrete Landscape Edging
Who doesn't love the benefits of solid edging to keep their lawn and flower beds separate? But wood, plastic, and other materials can move, rot, separate, or lose their luster over time. For this reason, we believe machine-formed continuous concrete edging is the most durable, attractive, and cost-effective solution for your edging and walkway needs.
Flower beds are one of the best uses for concrete edging, because it virtually eliminates "grass creep" and keeps your lawn from taking over. Our careful installation process preserves your existing plants and sprinklers, and the strength of the concrete helps prevent roots from creeping in and damaging your beautiful beds.
Colored, Textured and Stamped
The landscaping on your property is like "outdoor artwork" and solid edging is the decorative frame! That is why we offer a wide variety of colors and styles to choose from to help you get just the right look.
In addition to our edging options, we also offer a variety of curb and walkway molds.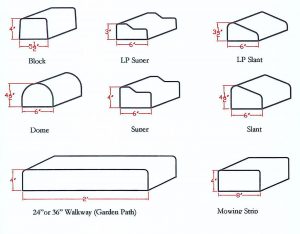 Protect your investment and keep your custom curbs in top shape! For just a few hundred dollars per year you'll get:
Annual Cleaning
Annual Chip Touch-Up
Annual Resealing
Discount on accidental damage repairs
Warranty extended to match the length of your contract
Schedule an onsite visit at your convenience by calling 253-797-8431 or by submitting your information on our Get an Estimate page. Your project is important to us, so our team works hard to respond to all requests within one business day.
The Klein Family
We recently had stone curbing installed by Custom Curbs and couldn't be more pleased! They were punctual, professional and courteous. They took time to listen and genuinely understand the look we were hoping to achieve. The entire process from planning, to installation and final cleanup, was seamless. The team was wonderful to work with and the craftsmanship is excellent!
Dan from Tacoma
Working with Michael and his team at Custom Curbs has been a great experience. I actually felt like Michael cared not just about another job but what I wanted and what my concerns were. Now that its all done I am so happy and very thankful to have found Custom Curbs and I am happy to recommend them to everyone.
Phelps Family – Lake Tapps, WA
We had the pleasure of working with Michael and his team with Custom Curbs.  My wife and I were both integral in the process of finalizing the exact look we wanted to achieve.  The entire process was quick and seamless.  I would definitely recommend to anyone who is looking for a custom, clean look.
Ester E.
Custom Curbs did a wonderful job installing are landscape curbing. He was on time for all appointments and completed the job on time and on budget. There were no surprise charges. Michael and J were both very polite and respectful. Would highly recommend them for any job.
McCarty M.
Michael and J with Custom Curbs did a great job installing are landscape curbing. They completed the job in 1 day, from prep work to installation on the curbing and clean up. When the job was complete it look like a brand new yard and the clean up they did was great. Michael walked me thru the whole process and explained everything and told me what expect and what I needed to do to maintain my curbs. I would highly recommend them for any Curb jobs to my friends and family.
Custom Curbs is proud to be a locally owned and operated business based in Federal Way, Washington.
We currently service King, Pierce, and parts of Snohomish counties. Please see our services page for more information.
253-797-8431
cs@custommadecurbs.com